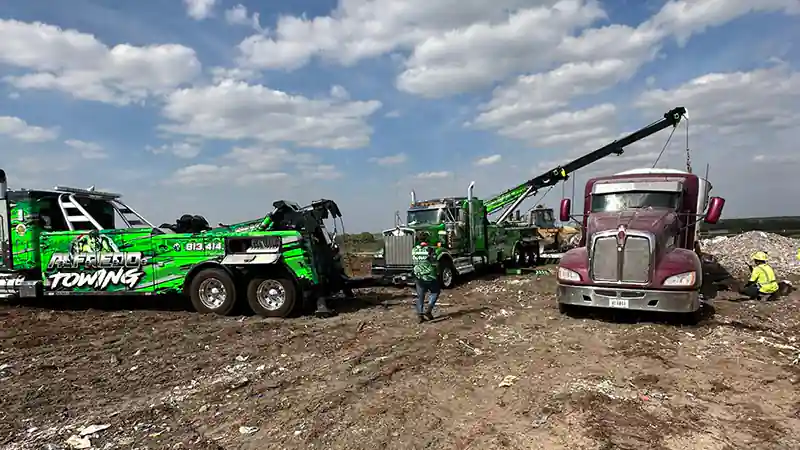 Alfredo Towing Services is a 24/7 towing service and roadside assistance company  in Tampa. We want to share today this recovery service success story.
The customer was dumping the load when the trailer accidentally overturned. He called us at 813 414-1127 to request our recovery service. For a recovery situation, roadside assistance or towing service, Alfredo Towing Services is the solution.
We assigned a tow truck rotator operator with experience in this type of recovery service and a tow truck wreckler driver for later towing service. Both tow trucks arrived 28 minutes after the call.
Half an hour later the recovery service was done. The tow truck rotator returned the trailer to its position damage free. Then the tow truck driver started the towing service. The tow truck delivered the customer's truck to its destination.
The client called again at 813 414-1127 to express his satisfaction with Alfredo Towing Services' recovery and towing service. He told us that he will review on Google and Yelp, to recommend Alfredo Towing Services as the best towing service and roadside assistance company in Tampa.
Tow truck rotator
Alfredo Towing Services is 24/7 towing service and roadside assistance company. We have a large and modern fleet than include some tow truck rotators. Tow trucks rotators are useful for emergencies situations like turn over, in this cases the recovery service will be performed with a tow truck rotator and a wreckler for the towing service. We also use tow truck rotator for equipment hauling and heavy duty transport.
Blog & News
Stay Up to Date with our latest news and articles
How to select the best towing Service Company? Without the right towing service company, you may be trapped on the road until a kind-hearted comes to your aid.