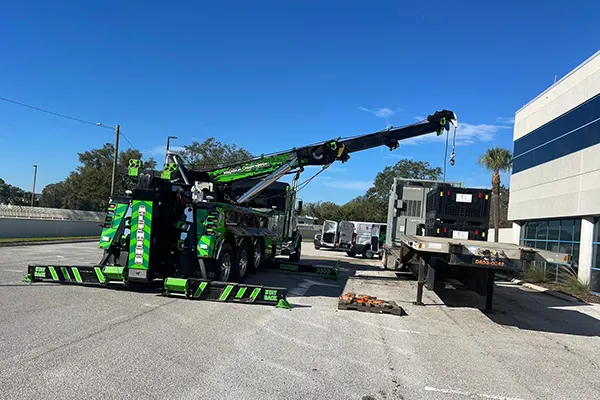 Heavy Duty Transport
Professional Transport and Hauling Services
Alfredo Towing Services provides Heavy duty transport and equipment hauling services in Tampa and surrounding areas.
Our hauling company offer affordable transportation solutions for heavy equipment of all types and sizes, including excavators, bulldozers, forklifts, cranes, dump trucks, backhoes, loaders, pavers, skid steers, tractors, combines, sprayers, and more.
This service is divided into three categories that cover all our clients' needs: heavy vehicle transportation, equipment hauling, and container delivery . Alfredo Towing Services guarantee to meet all customer requirements regarding safety, rates, and delivery time.
Our Services
Equipment Hauling for Industrial, Construction, and Agricultural Sectors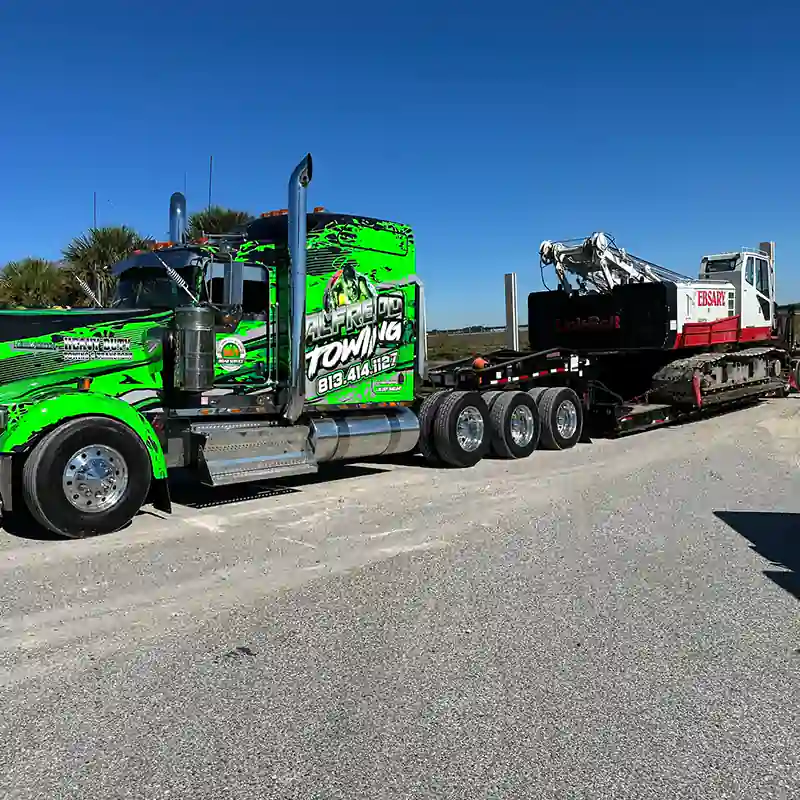 Our towing company have a modern fleet of tow trucks and experienced drivers who are trained to handle all types of vehicle transport needs.
Our fleet is equipped with air ride suspension, which ensures that your vehicle is transported safely and securely. Our tow trucks, specially our flatbeds, can haul any type of car, machinery and oversized loads.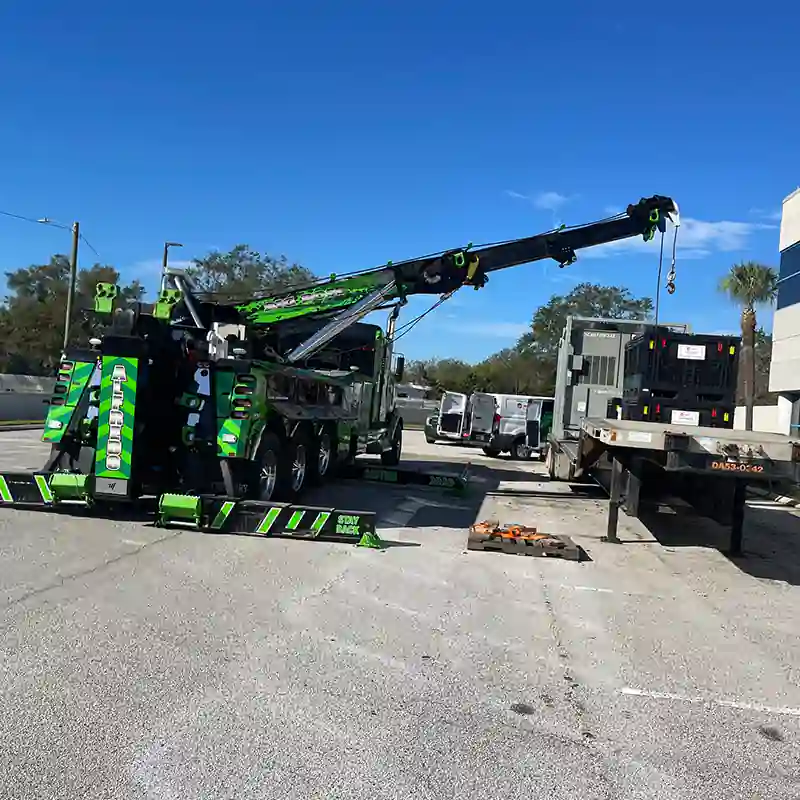 Our company specialize in transport all types of equipment, including construction equipment, industrial machinery, and agricultural equipment, such as excavators, bulldozers, tractors, combines, sprayers, and other farm machinery. Our tow trucks are equipped with hydraulic lift gates, which make loading and unloading your equipment a breeze.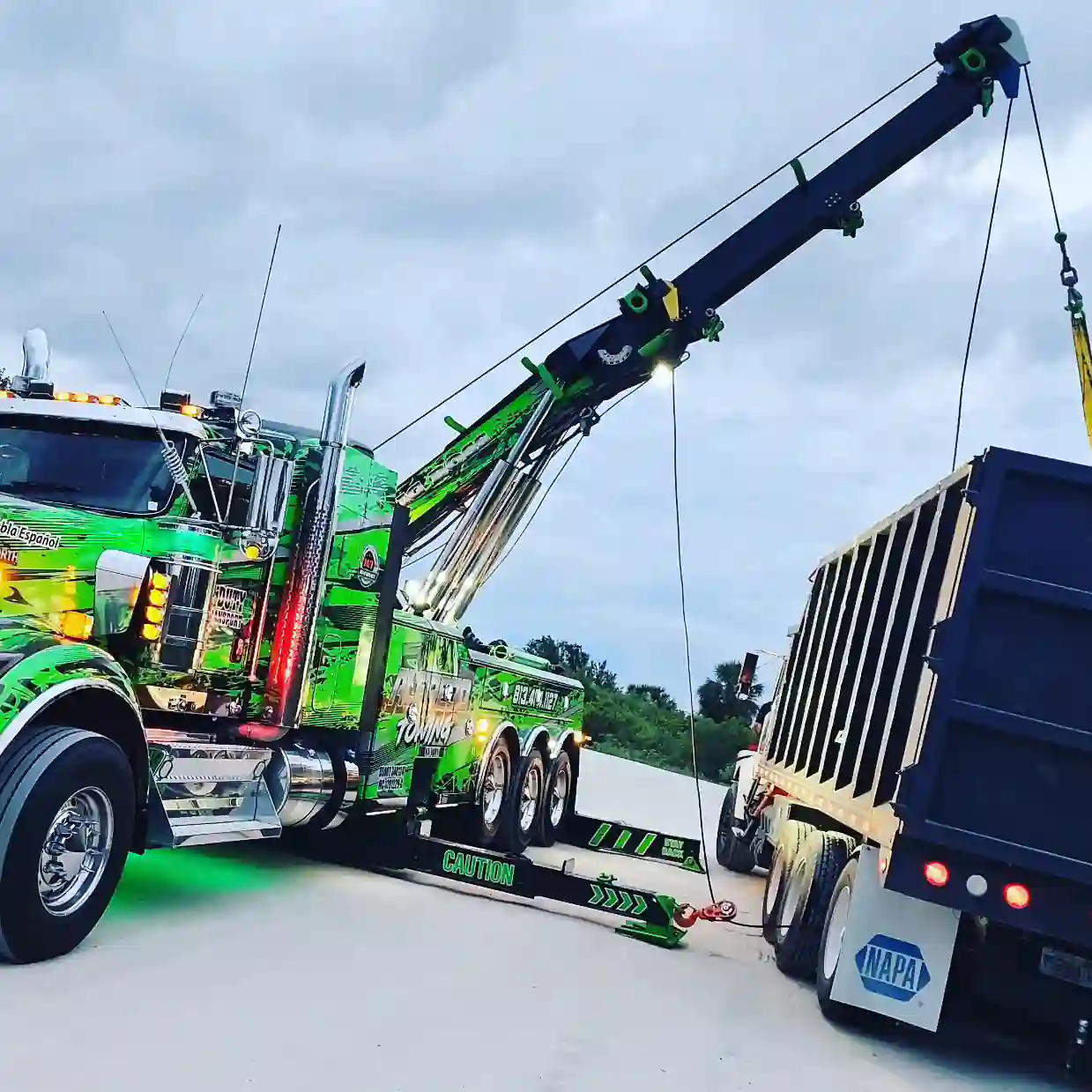 Shipping and Delivery
We specialize in delivering heavy cargo, such as containers, for businesses and individuals in Tampa Bay and its surrounding areas. Our experienced team is equipped to handle all your shipping needs, from same day delivery to scheduled deliveries. We work closely with our clients to ensure that all their shipping needs are met and that your cargo arrives safely and efficiently.
Towing Services in Tampa
Get a Quote for Your Next Heavy Haul
Contact Alfredo Towing Services at (813) 414-1127 and let us help you with all of your vehicle, equipment and containers transportation needs. Our services are available 24 hour and cover from Tampa, Lakeland, Wesley Chapel, Brandon and Plant City to all United State. Get a free quote, we have affordable rates.
Alfredo Towing Services is a 24/7 towing company near Tampa. We received a call from this customer to get a quote for a heavy duty transport for transporting his new shed.

The customer hired our heavy transport service. We arrived in 25 minutes. With our mobile crane put the heavy equipment on our tow truck and started the heavy Transport
How to select the best towing Service Company? Without the right towing service company, you may be trapped on the road until a kind-hearted comes to your aid.

The goal of roadside assistance is to provide drivers with quick and reliable help in the event of a breakdown or emergency situation while on the road. It's always a good idea to be prepared for emergencies by keeping a basic emergency kit in your car, including a spare tire, jack, jumper cables