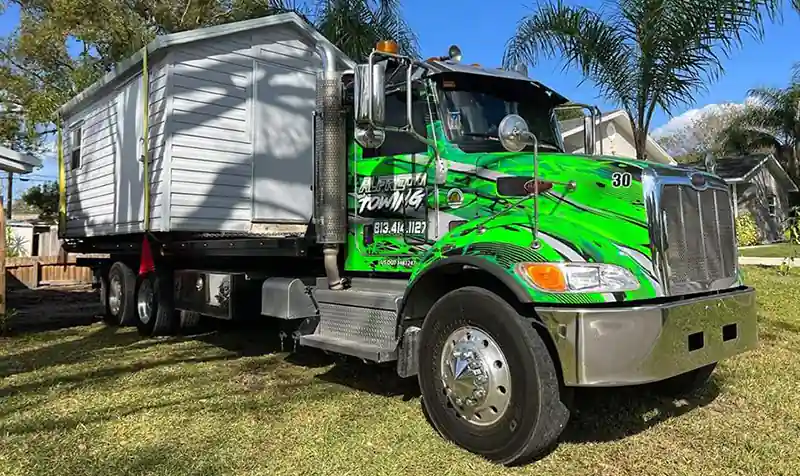 The customer considered that the quote was very competitive for a heavy duty transport near Tampa service. So he gladly agreed and we scheduled the towing service immediately.

We assigned one of our best tow truck drivers. This tow truck driver has more than 15 years of experience in towing services and roadside assistance. The last 7 years at Alfredo Towing Services providing heavy duty transport services. He seemed motivated with this towing service near Tampa, because it would be the ninth time he would perform a Shed Transport Service.

We arrive in 20 minutes. The operations to load and secure the new shed on the tow truck lasted 27 minutes, and the heavy duty transport service an hour and a half.

The customer expressed his satisfaction with Alfredo Towing Services Company for the speed and efficiency with which the heavy duty transport of his new shed was carried out.

Alfredo Towing Services is available 24/7 for heavy duty transport and roadside assistance in Tampa and near areas. Don´t waste time searching on internet for "Shed transport near me", call Alfredo Towing Services directly at 813-414-1127. We come to your rescue 24/7 for any towing service or Roadside assistance near Tampa.
Shed Transport
Alfredo Towing Services has provided more than 200 shed transport services. We lead heavy towing service and roadside assistance in Tampa and near areas. Our modern tow truck fleet is 24/7 available to cover all towing service and roadside assistance needs. We are a 24/7 towing service company. Call us for any heavy duty transport or roadside assistance.
Blog & News
Stay Up to Date with our latest news and articles
Help us to improve our company
Send your feedback about our towing services
Ask for a Towing Service Quote
Call at (813) 414-11-27 for roadside assistance in tampa