Alfredo Towing Services
Leading towing in Tampa since 2016
Our towing Service in Tampa is available 24 hours to tow your car in case of a breakdown. We arrive at your location with an estimated arrival time of 30 minutes, offering the lowest rates in the area.
As a professional company, we also provide roadside assistance to help drivers in various situations, including flat tires, dead batteries, running out of fuel, and locked doors.
Since our establishment in 2016, we have been dedicated to delivering high quality services while prioritizing customer satisfaction. Our commitment lies in providing the best towing in Tampa to our valued clients.
Our fleet can deal with any tow situation an includes wreckers, flatbeds, mobile cranes, Lowboy and Landoll Trailers, among others.
Our Services
We provide comprehensive hauling services for light and heavy vehicles.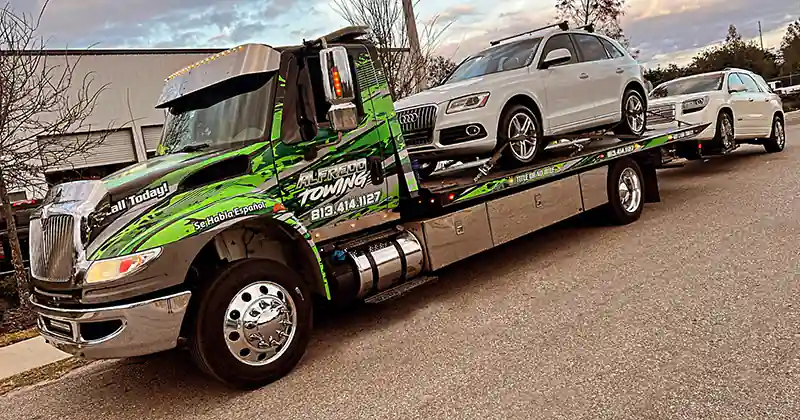 Our light towing in Tampa is available 24/7 to assist with any hauling emergency. We specialize in providing light duty services for a diverse range of vehicles, including automobiles, sport utility vehicles (SUVs), motorcycles, vans, and boats.
If you consider price, time, and safety important before making a choice, then we are the best choice. Our company offers competitive prices, with an estimated arrival time of 30 minutes. Additionally, we utilize advanced flatbed hauling techniques to ensure your vehicle arrives safely at its destination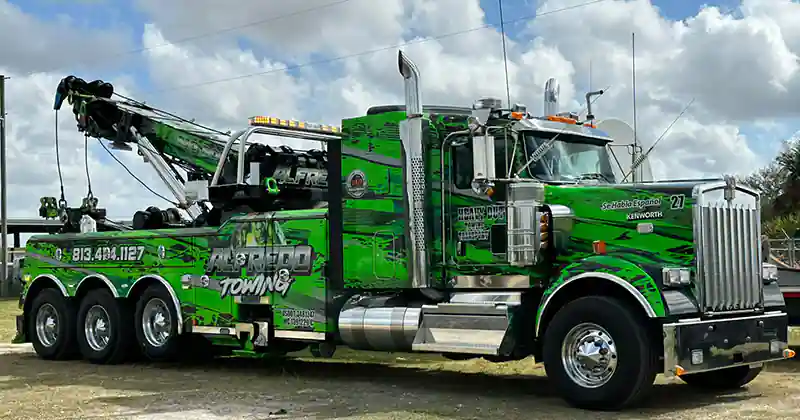 With our heavy towing service in Tampa, we also extend our coverage to include areas such as Lakeland, Riverview, Brandon, Wesley Chapel, and Plant City. Additionally, our drivers are trained to handle a wide range of  jobs, including hauling commercial vehicles, buses, box trucks, trailers, recreational vehicles (RVs), semis, and more.
Our fleet is prepared to meet all your hauling requirements. Whether you need a specific type of tow truck, we can handle it. Our extensive fleet consists of wreckers, mobile cranes, flatbeds, Landoll and Lowboy trailers.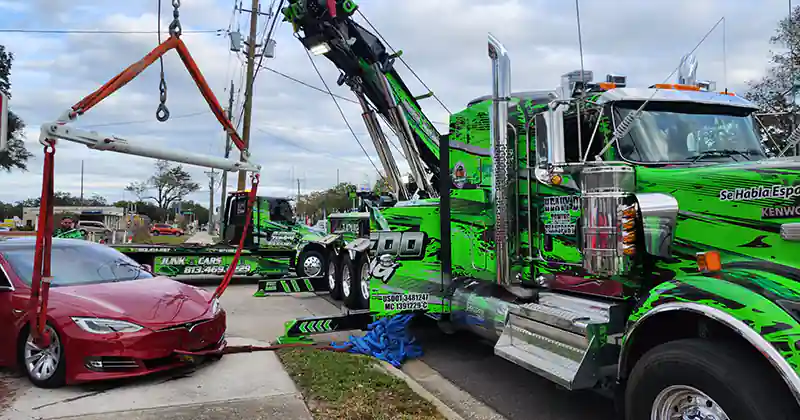 We have the expertise and specialized equipment needed to assist you in any emergency situation on the road. Our roadside assistance includes flat tire changes, battery replacements, jump starting cars, fuel delivery, car lockout assistance, and emergency vehicle recovery.
Similar to the Tampa towing , our road service arrives within 30 to 45 minutes and provides affordable prices. Our team is committed to solving any breakdown and getting you back on the road as soon as possible. Alternatively, we can provide tow truck services to transport your vehicle to the desired destination if an advanced solution is required.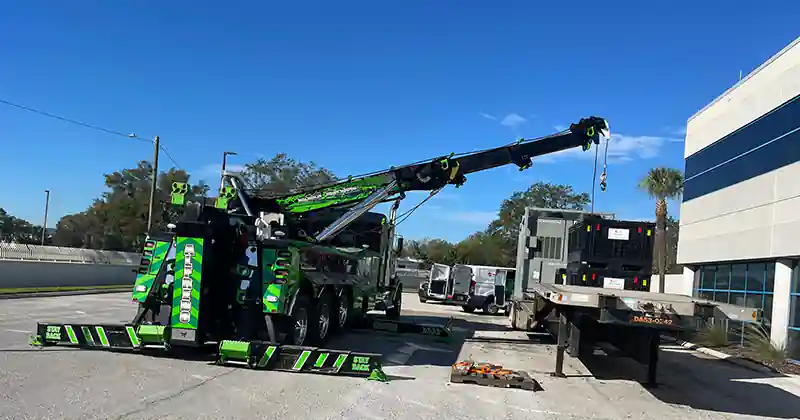 Heavy duty transport is an integral part of our logistics solutions, complementing our towing in Tampa. With our modern fleet, which includes various types of flatbeds, we are capable of providing transportation services for heavy vehicles, equipment hauling, and container delivery to industries, construction companies, the agricultural sector, and logistics businesses.
While the tow truck service are limited to Tampa, Lakeland, Wesley Chapel, Brandon, Riverview, and Plant City, our heavy transport service can operate from these regions to any destination within the country.
Blog & News
Stay Up to Date with our latest news and articles