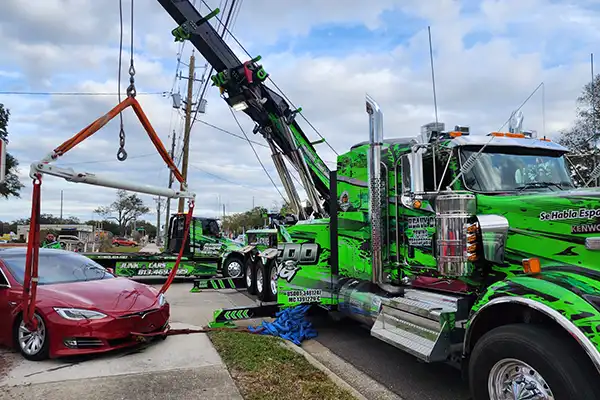 The red car owner called Alfredo Towing Services Company for a car recovery service. The car got stuck in a narrow space. Moving the car without our roadside assistance would damage the car. So calling our towing company for the car recovery was the right choice.  Our tow truck and wrecker rotator arrived in 25 minutes. The tow truck driver designed the car recovery strategy. With the wrecker rotator they raised the car and put it on the tow truck. The car recovery was effective.  An Excellent car recovery damage free.
The customer was excited with the car recovery and the quality of the roadside assistance.  Alfredo Towing Services Company loved this car recovery challenge.  We are proud of our tow truck and wrecker rotator drivers.
The tow truck and wrecker rotator drivers played like team for the car recovery with no damage. Alfredo Towing Services provides roadside assistance and recovery service in Tampa and near areas.  Our tow trucks and wrecker rotators are available any time you need a car recovery or roadside assistance.
Help us to improve our company
Send your feedback about our towing services
Ask for a Towing Service Quote
Call at (813) 414-11-27 for roadside assistance in tampa