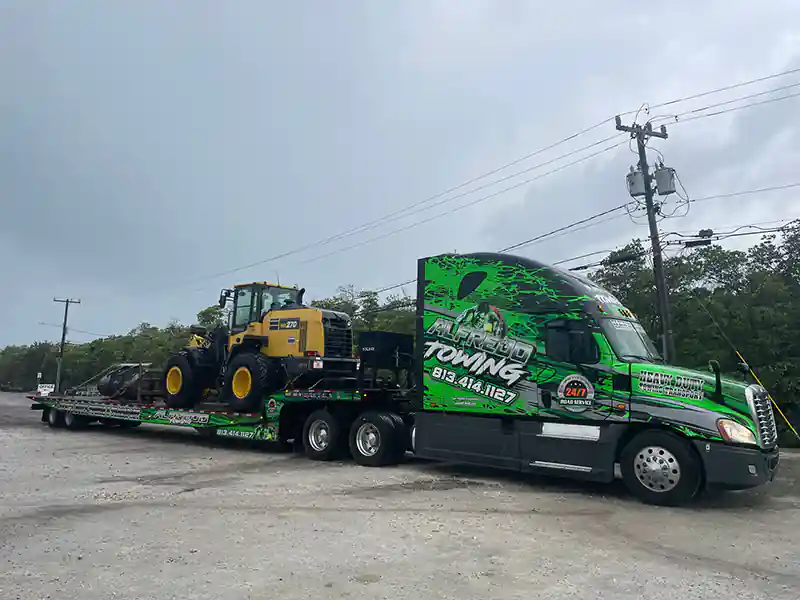 Alfredo towing services is a towing company in Tampa. But this time our tow truck expanded the towing in Tampa policy . Our best tow truck driver performed a heavy duty transport service from Tampa to Key West. This long equipment hauling was challenging, but this smooth ride to the keys made up for it. Beautiful beaches and nice places. If you need a Heavy Duty Transport or equipment hauling in Tampa and surrounding areas do not hesitate to call us.

Heavy duty transport refers to the movement of large and heavy goods, such as industrial machinery or construction equipment, using specialized vehicles and equipment designed for the purpose.
Heavy Duty Transport
For a reliable tow truck service in Tampa, look no further than Alfredo Towing Service. Our team of experienced professionals is dedicated to providing top-notch heavy duty transport and equipment hauling services that exceed your expectations. We have the equipment and expertise for safe heavy duty transport and equipment hauling. With our 24/7 availability and competitive pricing, we're the best choice for all your towing in Tampa. Contact us today to schedule your next tow or hauling service!
Blog & News
Stay Up to Date with our latest news and articles