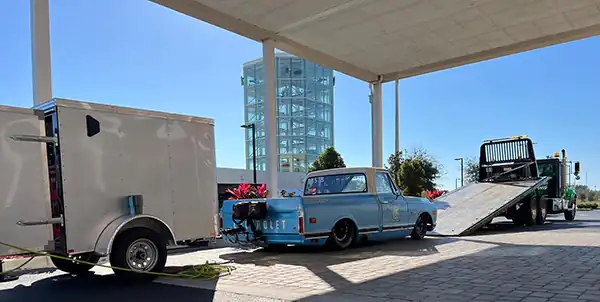 Our dispatch team provides him a polite and professional customer service. Because Alfredo towing service company, work hard for his customer satisfaction. We offer 24/7 towing service and roadside assistance in Tampa and surrounding areas.

The Customer was on his way to a car show but unfortunately his car broke down.
He called Alfredo Towing Service immediately. He considers us the best towing company near Tampa: fast and cheap roadside assistance and safe towing service.
We sent one of our professional drivers to tow the car and his trailer. Out Towing Service expert noticed that the car was too low, but he manage to take good care of his car while doing the towing service.
Customer got to the drop off destination with his car and trailer happy and satisfied with the service that was provided by Alfredo Towing Services. We provide 24/7 roadside assistance near Tampa and light and heavy towing service in Tampa and surrounding areas.
Blog & News
Stay Up to Date with our latest news and articles
Help us to improve our company
Send your feedback about our towing services
Ask for a Towing Service Quote
Call at (813) 414-11-27 for roadside assistance in tampa